Events List Navigation
March 2019
April 2019
June 2019
December 2019
February 2020
April 2020
February 2021
Marty is at MCG Jazz
I hope that you and yours are staying safe and healthy. Thank you for your patience during this extended pause in the MCG Jazz programming. The global COVID-19 pandemic continues to impact all performing arts in Pittsburgh, as well as across the country. The priority remains to keep everyone in the audience, on stage, and behind the scenes healthy and safe.
In an effort to keep everyone safe, MCG Jazz paused all previously planned in-person concerts and educational events. When restrictions are lifted and we can safely hold in-person events, we will. I do not have a date set to reopen our doors, but we are proactively working with artists, their managers and agents to present these artists when it is safe to do so.
This decision is based on information from local and state governments, the CDC, and the WHO. All measures we are taking are grounded in our understanding of public health science and infectious disease control to create a safe environment when we are permitted to reopen.
The MCG Jazz mission to preserve, present, and promote jazz has never been stronger.
Every day and in every way, MCG Jazz will continue to do what we do best – preserve, present, and promote jazz. The focus has always been to keep patrons, artists and staff safe and provide an enjoyable musical experience. So, until we are able to be together in our music hall – we are coming to you!
Starting in September 2020 we are providing you with a wide variety of interactive offerings to keep you connected to MCG Jazz and bring the New Jazz Age to you:
Live Performances – When restrictions will allow, we will host a socially distanced live performance from the MCG Jazz stage and stream it LIVE! Subscribers will have a special code to watch the performance at their convenience within 48 hours.
Live from the Archives – We are streaming concerts from the 33-year history of MCG Jazz. Relive a show you attended or see one you may have missed.
MCG Jazz Spotlight Show – Every Friday, Saturday and Sunday, MCG Jazz hosts a 60-minute radio show on The Pittsburgh Jazz Channel, WZUM, 101.1 FM or stream online at wzum.org.
Pittsburgh Jazz Legends Spotlight – Each month we will post an oral history of one of the MCG Jazz Pittsburgh Jazz Legends and feature photos, music clips and memorabilia from each artist throughout the month.
[Visit mcgjazz.org to see the full schedule of events.]
What happens now and what can I do?
The MCG Jazz team looks forward to connecting with each of you individually. If you purchased a subscription for the 2020-2021 season or if you have tickets for a concert that would have occurred in March, April or May 2020, we will be in touch with you to discuss your options. For your convenience, you can schedule a call immediately to speak with a member of the MCG Jazz team directly. Please use the calendar tool below to select your preferred day and time by clicking on email hidden; JavaScript is required/bookings/">https://outlook.office365.com/owa/calendar/email hidden; JavaScript is required/bookings/
We need your support now more than ever. Music is a primary way that our culture is passed on and celebrated. For the past 120 years, jazz has been at the center of American culture and will continue to be with your help. MCG Jazz is a non-profit organization, relying on revenue from both ticket sales and contributions to bring exceptional jazz experiences to Pittsburgh. Please help us keep this strong tradition alive by donating or becoming an MCG Jazz member. Your donation is tax-deductible and critical in supporting us during this challenging time. Please click here if you would like to donate your tickets….
Together we are the New Jazz Age.
When we all work together, we will keep each other safe and healthy. The sooner this virus is eradicated, the sooner we can enjoy live jazz again. We will never stop swingin' and never stop believing in the power of music.  Thank you for your continued support and we look forward to connecting with you virtually for now.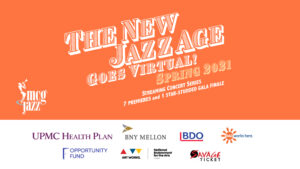 The MCG Jazz staff –
Marty Ashby, Vice President and Executive Producer | Renée Govanucci, Director | Mark Jackovic, Education and Archives Manager | David Sykut, Producer Manager | Nick Pesanka, Patron Services and Sales Specialist | Natalie Larsen, Administrative Assistant Senior Level
Find out more »
July 2021
September 2021
October 2021
December 2021
+ Export Events