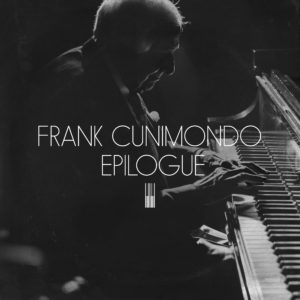 Frank Cunimondo
Release Date: 08/24/2018
---
FRANK CUNIMONDO ALBUM,
"EPILOGUE,"
DUE FROM MCG JAZZ AUGUST 24
WELL KNOWN SONGS ARRANGED TO ILLUSTRATE CUNIMONDO'S UNIQUE SENSE OF HARMONIZATION
Pittsburgh Jazz Legend, pianist, Frank Cunimondo continues to create new landscapes with his trio performing fresh versions of familiar standards. Frank's career spans playing Jazz in Pittsburgh from the early age of 13 in 1947 to playing in Canada at age 17, Atlantic City at 18 and touring with the Billy May Orchestra at 19.  He performed on the East Coast of Florida from Jacksonville to Miami for many years and played in clubs in New York City during the 1960s.  One of those New York club gigs led to a performance on The Tonight Show with Johnny Carson in 1963. In addition to his seminal jazz piano method book he continues performing and teaching both privately and at the University of Pittsburgh.
Epilogue, as this album is aptly titled, states just how much more Cunimondo has to offer.  A recording of 12 well known standards all arranged by Cunimondo to express his particular brand of harmonization.  The closing track, "Epilogue," is a brief original composition that tells the story and future of Frank Cunimondo.
ARTISTS
Touted by music critics and musicians alike as one of the most important drummers in jazz history, Roger Humphries has provided the rhythmic support for such greats as Ray Charles, Horace Silver, Richard "Groove" Holmes, Stanley Turrentine, James Moody, and countless others.  Yet perhaps his greatest accomplishment is the hundreds of young jazz musicians he has mentored in Pittsburgh over the past 50 years. Many of them playing all over the world today.
Dwayne Dolphin is a master player of acoustic, electric and piccolo basses. He shares a Tonight Show with Johnny Carson commonality with Cunimondo as Dolphin played on the show with Wynton Marsalis while a member of his working band. He also has performed and toured with dozens of jazz legends ranging from Geri Allen to Fred Wesley.
Pat Crossley has been Frank Cunimondo' s bassist for 18 years and has played extensively throughout the United States and Europe with artists such as Herb Ellis, Sam Dochery, Bill Hollis and performed on Good Morning America.
In addition to freelancing and serving an adjunct Instrumental Music teacher at his alma mater, Pittsburgh CAPA 6-12 Performing Arts School in Pittsburgh, bassist Paul Thompson has toured the world with trumpeter Maynard Ferguson as well as having played in saxophonist Stanley Turrentine's last touring group.  Paul has performed recently with Michael Feinstein, Hubert Laws and Bob James.
Mentored by Roger Humphries, drummer Thomas Wendt maintains a busy freelancing schedule with Pittsburgh's top jazz artists and has played with many visiting international artists like David "Fathead" Newman, Donald Byrd, Jimmy Heath, Clark Terry, Benny Golson and Freddy Cole.
PRESS INQUIRES:
For CDs, interviews and photos contact:
MARTY ASHBY / 412-322-0820 /  email hidden; JavaScript is required
TO PURCHASE:
Epilogue by Frank Cunimondo
Available on August 24, 2018.
Order your copy now from: