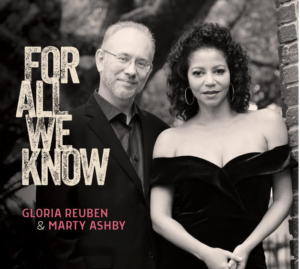 Gloria Reuben & Marty Ashby
Release Date: 02/14/2020
---
GLORIA REUBEN AND MARTY ASHBY
FOR ALL WE KNOW
AVAILABLE FEBRUARY 14, 2020
Gloria Reuben and Marty Ashby perform a collection of tunes, intimately exploring the beautiful, sometimes painful, oftentimes mystifying nature of love and relationships. All of the songs on For All We Know due for release on February 14, 2020 on the MCG Jazz recording label, carry the listener through the myriad of emotions that entwines the heart while one wishes for a love, wins a love or loses a love.
The song titles alone tell a powerful story that contains a message, a memory or a desire that anyone who has ever been in a relationship can connect with:
Where do you start to unwind the intertwined lives after a love affair ends?  How do you not obsess about the people that you never get to love?  Hoping that maybe your ex will be there just around the corner and come back into your life. You try a hand at your own recovery by telling yourself to, "sing my heart" and that "I get along without you very well." Then you close your eyes and dream you find a time for love again and contemplate how high the moon is as visualization of your capacity to love.  Yet, time after time you keep coming back to wanting love and loving the love you have.  And for all we know today may be the last time you ever see your lover – or the day you meet your soulmate.
Reuben's first recording on the MCG Jazz label "Perchance to Dream" was heralded by Dave Koz as "A truly beautiful album from start to finish…amazing playing by phenomenal musicians, great selection of material…but it's Gloria's elegant, refined voice that holds the listener. So intimate and present, she's able to paint amazing pictures with her interpretations for these classic songs." The recording ended with a duo track that sparked the notion for a full album of duos.  Inspired by the albums of Sammy Davis, Jr. with Mundell Lowe and with Laurindo Almienda, and Ella Fitzgerald and Joe Pass, Gloria and Marty are adding to the voice/guitar duo cannon with this special project.
Gloria says, "I am so proud of my first music collaboration with Marty Ashby and my first jazz-based album, 'Perchance to Dream,' and I am thrilled to join forces with him again on 'For All We Know.'"