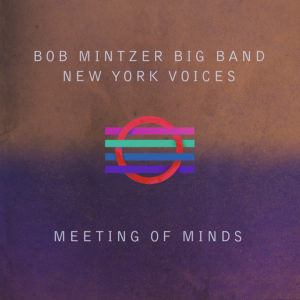 Bob Mintzer Big Band - New York Voices
Release Date: 06/23/2018
---
NEW BOB MINTZER BIG BAND – NEW YORK VOICES ALBUM,
"MEETING OF MINDS,"
DUE FROM MCG JAZZ JUNE 22
THEIR FIRST TIME RECORDING TOGETHER THIS COLLABORATION DRAWS ON THE AMERICAN SONGBOOK
"Meeting of Minds" focuses on the integration of voices with the big band. The combination of the dynamic writing styles of Bob Mintzer and Darmon Meader, from New York Voices, produces a very dense yet very fresh sonic palette. There are subtle harmonic and rhythmic nuances in the arrangements that blend together to deliver an engaging musical journey. The repertoire draws on the Great American Songbook from the 1930s and 1940s. Each arrangement transforms a classic song into a modern-day hit revealing the lasting power of a great song. In addition to the wonderful arrangements, the album showcases over a dozen powerful improvised solos from some of the top musicians in the world. The collaboration is truly a musically rich Meeting of Minds.
Produced by MCG's Marty Ashby with all band arrangements by Mintzer except: "I Get Along Without You Very Well" arranged by Peter Eldridge and Meader and "You Go To My Head" arranged by Meader. All vocal arrangements are by Meader. "Meeting of Minds" also includes classic tracks:  "Autumn Leaves," "I Want To Be Happy," "The Way You Look Tonight," "You Go To My Head," "Old Devil Moon," "Speak Low," and "I'll Remember April" in addition to Mintzer's composition "Weird Blues."
"Working with New York Voices on this project has been a total joy," said Mintzer. "They are a tight knit, dynamic vocal group, as good as they come. Damon Meader's vocal arrangements were exquisite! He took what was there in the arrangements and integrated the vocals in such a clever way.  As always, the band rose to the occasion. Great soloists and superb ensemble playing on some fairly challenging arrangements.  The material on Meeting of Minds is so very strong. The cream of the crop of the popular song of the 1940s. It was fun to go somewhere else arrangement-wise while acknowledging the greatness and intention of the tunes. They don't write lyrics like this anymore.  Kudos to Marty Ashby and the staff at MCG Jazz for providing the vehicle for this project to come to fruition. The idea of collaborating with the New York Voices seemed like such a good idea from the very beginning. Grateful we got to do this!"
Meader, speaking collectively for the members of New York Voices, said, "Working with Bob and his band was definitely a 'bucket list' opportunity. We have all been big fans of his writing and playing for years; so, to jump into this collaboration was a thrill. Writing our four-part harmony into his intricate big band charts created a different sound from previous NYV projects, shifting our role in an interesting way. It was fun to figure out how to dance in and out of the big band textures, and the end result was very rewarding."
This recording is very special for MCG Jazz as it brings together musicians who have been a part of the MCG Jazz family since the very beginnings of the program in the late 1980s. The New York Voices performed with the Count Basie Orchestra on the label's first commercial release, "Count Basie Orchestra with New York Voices, Live at Manchester Craftsmen's Guild," which went on to win a GRAMMY® Award in 1996. Since then, the group has performed on several other MCG Jazz titles including Nancy Wilson titles "A Nancy Wilson Christmas" (2001) and the GRAMMY® Award-winning R.S.V.P. (Rare Songs, Very Personal)" (2003) along with Paquito D'Rivera's "Brazilian Dreams" (2002). Their first solo album with MCG Jazz was A Day Like This (2007) which received a GRAMMY® nomination for Best Arrangement Accompanying Vocalists.
In addition, MCG Jazz has produced five other Bob Mintzer Big Band recordings ranging from Brazilian-themed projects to R&B—in addition to a full-length DVD from the "Live at MCG" album.
Mintzer connected with Manchester Craftsmen's Guild in 2004. The Big Band debuted with "Live at MCG" (2004) and followed up with "Old School, New Lessons" (2006), both of which featured Kurt Elling, and "Swing Out" (2008). On the GRAMMY®-nominated "For the Moment" (2012), the spotlight was on Brazilian music, with guitarist/composer Chico Pinheiro as special guest.  "GET UP!" (2015) draws on R&B and funk traditions.
Tour dates for both Bob Mintzer and New York Voices can be found at:  www.bobmintzer.com and www.newyorkvoices.com.
PRESS INQUIRES:
For CDs, interviews and photos contact:
MARTY ASHBY / 412-322-0820 /  email hidden; JavaScript is required
TO PURCHASE:
Meeting of Minds by Bob Mintzer Big Band – New York Voices
Available on June 22, 2018.
Order your copy now from:
Track List:
Autumn Leaves (6:48)
I Concentrate On You (5:23)
I Want To Be Happy (6:35)
I Get Along Without You Very Well (4:33)
The Way You Look Tonight (6:26)
You Go To My Head (7:20)
Old Devil Moon (5:25)
Weird Blues (6:00)
Speak Low (6:57)
I'll Remember April (5:29)
###