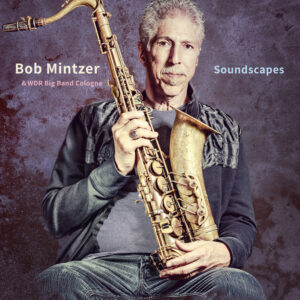 Bob Mintzer & WDR Big Band Cologne
Release Date: 06/18/2021
---
BOB MINTZER & WDR BIG BAND COLOGNE
"SOUNDSCAPES"
Soundscapes is a new album from Bob Mintzer with the WDR Big Band Cologne, due out on Friday, June 18, 2021.
As chief conductor of the great WDR Big Band for the last six years, Bob Mintzer was ready to showcase his own material with the world-class large ensemble.
An amalgam of moods, grooves and intricate textures, Soundscapes not only showcases Mintzer's writing for this indelibly tight, universally esteemed ensemble, it also finds him doing double duty as principal soloist on tenor sax and Electronic Wind Instrument (EWI) while providing a spotlight for such other outstanding soloists as longtime WDR members Paul Heller on tenor sax, Karolina Strassmayer and Johan Hörlén on alto saxes, Ruud Breuls and Andy Haderer on trumpets and Andy Hunter on trombone.
Few composers write mostly original music for large ensemble and hardly any, then, have much of the music available in a published format for other bands and students to study and play. Mintzer stands alone as the preeminent composer/arranger for big band at this time.
The collection opens with a brand new Mintzer original, "A Reprieve." A mellow groover that features Mintzer on a Zawinul-sounding EWI while the horns dance over the bubbling groove in contrapuntal fashion. Another brand new Mintzer composition, "The Conversation," is an aptly-titled piece to describe the energized call-and-response that occurs between the dynamic horns and guest percussionist Marcio Doctor. The straight up swinger "Stay Up" sounds like it could have come directly out of the Buddy Rich band book. Mintzer delivers a ferocious tenor solo over Stefan Rey's insistent walking bass line and drummer Hans Dekker's infectious spang-a-lang on the ride cymbal. Johan Hörlen also contributes a killer alto solo to the super-charged mix.
"Montuno," named for the percolating, almost hypnotic groove that is at the heart of Cuban rumba, speaks of Mintzer's seasoning on the Latin jazz scene in New York City. The mysterious, slow grooving "Whack" was a total experiment, according to Mintzer. "I tried to just obscure any sort of habit or procedural thing I've ever done and just blindly started throwing notes at a score in cluster-ish sounds over this slow funk beat. I guess you could call it 'atonal funk' because it has this angular 12 tone-ish melody that used woodwinds and muted brass. I was just going for something totally different." The rhythmically charged, Latin-tinged "Canyon Winds" is an earlier piece by Mintzer which is meant to capture the vibe of his current California surroundings.
The swinging "Herky Jerky" is a perfect title for a piece imbued with the kind of stop-start forward momentum that Mintzer enjoys. "New Look," the lone ballad on Soundscapes, is a new Mintzer tune that features some of his most expressive and alluring tenor playing against the lush, warm-sounding accompaniment of woodwinds and flugelhorns. The swinging "One Music" is a big band adaptation of a tune Mintzer had previously recorded with the Yellowjackets as the title track to his 1991 DMP release.
The evocative closer, "VM," is Mintzer's homage to fellow composer-arranger-conductor Vince Mendoza, chief conductor of the Metropole Orkest who also presided over three projects with the WDR Big Band.