Nicole Mitchell: Radical Transformation: For Angela Davis
Event Navigation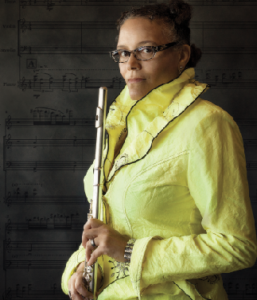 Saturday, April 18,   7:30 p.m.
Nicole M. Mitchell is an award-winning flutist, composer, bandleader, and educator. Repeatedly awarded top flutist of the year by Downbeat Magazine Critics Poll and the Jazz Journalists Association, Mitchell initially emerged from Chicago's innovative music scene in the late 1990s, and her music celebrates contemporary African American culture. She is the founder of Black Earth Ensemble, Black Earth Strings, Sonic Projections, and Ice Crystal.
Activist and scholar Angela Davis has been an incredible force for social justice for over 50 years. Mitchell's "Radical Transformation" is a musical celebration of Davis' courage and resilience. It strives to amplify Davis' activist vision and concerns towards creating a better world.
The former first woman president of Chicago's Association for the Advancement of Creative Musicians, Mitchell celebrates endless possibilities by creating visionary worlds through music that bridge the familiar with the unknown.
In January 2018, Mitchell was the Artist in Residence at New York's Winter Jazz Fest, where she performed four suites of her compositions. As a composer, Mitchell has been commissioned by the French Ministry of Culture, Chicago Museum of Contemporary Art, Art Institute of Chicago, the Stone, the French American Jazz Exchange, Chamber Music America, Chicago Jazz Festival, and Chicago Sinfonietta. Mitchell has performed with creative music luminaries including Craig Taborn, Roscoe Mitchell, Joelle Leandre, Anthony Braxton, Geri Allen, George Lewis, Mark Dresser, Steve Coleman, Anthony Davis, Myra Melford, Bill Dixon, Muhal Richard Abrams, Ed Wilkerson, Rob Mazurek, Billy Childs, and Hamid Drake. She is a recipient of the Herb Alpert Award, the Chicago 3Arts Award, and the Doris Duke Artist Award. Mitchell was recently named by the University of Pittsburgh as the William S. Dietrick III Endowed Chair Director of Jazz Studies and Creative Arts Ensemble.