Events List Navigation
April 2020
Nicole Mitchell: Radical Transformation: For Angela Davis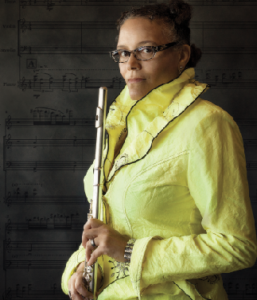 Saturday, April 18,   7:30 p.m.
Nicole M. Mitchell is an award-winning flutist, composer, bandleader, and educator. Repeatedly awarded top flutist of the year by Downbeat Magazine Critics Poll and the Jazz Journalists Association, Mitchell initially emerged from Chicago's innovative music scene in the late 1990s, and her music celebrates contemporary African American culture. She is the founder of Black Earth Ensemble, Black Earth Strings, Sonic Projections, and Ice Crystal.
Activist and scholar Angela Davis has been an incredible force for social justice for over 50 years. Mitchell's "Radical Transformation" is a musical celebration of Davis' courage and resilience. It strives to amplify Davis' activist vision and concerns towards creating a better world.
The former first woman president of Chicago's Association for the Advancement of Creative Musicians, Mitchell celebrates endless possibilities by creating visionary worlds through music that bridge the familiar with the unknown.
In January 2018, Mitchell was the Artist in Residence at New York's Winter Jazz Fest, where she performed four suites of her compositions. As a composer, Mitchell has been commissioned by the French Ministry of Culture, Chicago Museum of Contemporary Art, Art Institute of Chicago, the Stone, the French American Jazz Exchange, Chamber Music America, Chicago Jazz Festival, and Chicago Sinfonietta. Mitchell has performed with creative music luminaries including Craig Taborn, Roscoe Mitchell, Joelle Leandre, Anthony Braxton, Geri Allen, George Lewis, Mark Dresser, Steve Coleman, Anthony Davis, Myra Melford, Bill Dixon, Muhal Richard Abrams, Ed Wilkerson, Rob Mazurek, Billy Childs, and Hamid Drake. She is a recipient of the Herb Alpert Award, the Chicago 3Arts Award, and the Doris Duke Artist Award. Mitchell was recently named by the University of Pittsburgh as the William S. Dietrick III Endowed Chair Director of Jazz Studies and Creative Arts Ensemble.
Find out more »
May 2020
Yellowjackets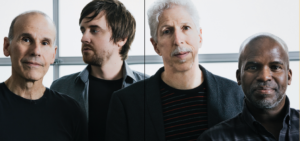 Friday, May 1,   7:30 p.m. +  Saturday, May 2,   7:30 p.m. 
The Yellowjackets have consistently forged ahead in their evolving artistic statements. The band has recorded close to 30 albums, been nominated for 17 GRAMMY® Awards, and has adventurously amplified the eclectic, electro-acoustic soundscape creating a unique jazz sound since its fusion beginnings.
While the Los Angeles-based Yellowjackets have been a creative force on the jazz scene since 1981 when they recorded their eponymous debut, their fourth Mack Avenue Records album, "Raising Our Voice," once again ups the ante with bold new strides.
"The band keeps moving forward," says saxophonist Bob Mintzer who joined the group in 1990. "It's one of the few partnership bands in the last four decades. It's democratic, laissez-faire and accommodating to everyone in the band to contribute. We're constantly reinventing ourselves as a reflection of what's happening in the world."
The Jackets are comprised of pianist/keyboardist/co-founder Russell Ferrante, bassist Dane Alderson in his second recording with the group and drummer Will Kennedy, who joined the band in 1987 and then in 2000 took a 10-year hiatus before returning to the drum chair.
Mintzer sees a bright future for the Yellowjackets. "What attracts me about the group is how stylistically broad we are," he says. "There are no barriers. We're free to try new things without making the music overly complex. I always say this is the band you always wanted to be in. We'll see where we go next."
Find out more »
Jazz at Lincoln Center Orchestra with Wynton Marsalis

Friday, May 15,   7:00 p.m.  &   Saturday May 16,   6:00 p.m. + 8:30 p.m.
The Jazz at Lincoln Center Orchestra with Wynton Marsalis (JLCO) comprises 15 of the finest jazz soloists and ensemble players today. Led by Wynton Marsalis, Jazz at Lincoln Center Managing and Artistic Director, this remarkably versatile orchestra performs a vast repertoire ranging from original compositions and Jazz at Lincoln Center-commissioned works to rare historic compositions and masterworks by Duke Ellington, Count Basie, Fletcher Henderson, Thelonious Monk, Mary Lou Williams, Dizzy Gillespie, Benny Goodman, Charles Mingus, and many others. The JLCO has been the Jazz at Lincoln Center resident orchestra since 1988, performing and leading educational events in New York, across the United States, and around the globe. Guest conductors have included Benny Carter, John Lewis, Chico O'Farrill, Ray Santos, Paquito D'Rivera, Jon Faddis, Robert Sadin, David Berger, and Loren Schoenberg.
Born in New Orleans, Louisiana in 1961, Marsalis began his classical training on trumpet at age 12, entered The Juilliard School at age 17, and then joined Art Blakey and the Jazz Messengers. He made his recording debut as a leader in 1982  and has since recorded more than 60 jazz and classical recordings, which have won him nine GRAMMY® Awards. In 1983, he became the first and only artist to win both classical and jazz GRAMMY® Awards in the same year and repeated this feat in 1984. Marsalis is also an internationally respected teacher and spokesman for music education, and has received honorary doctorates from dozens of U.S. universities and colleges. In 1997, Marsalis became the first jazz artist to be awarded the prestigious Pulitzer Prize in music for his oratorio "Blood on the Fields." In 2001, he was appointed Messenger of Peace by Mr. Kofi Annan, Secretary-General of the United Nations, and he has also been designated cultural ambassador to the United States of America by the U.S. State Department through their CultureConnect program.
Find out more »
+ Export Events