SFJazz Collective
Event Navigation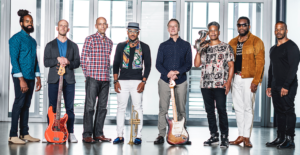 Saturday, April 4,  6:00 p.m. + 8:30 p.m. 
The SFJAZZ Collective is an all-star, award-winning jazz ensemble comprising eight of the finest performers/composers at work in jazz today. Launched in 2004 by SFJAZZ in San Francisco, the SFJAZZ Collective has become one of the most exciting and acclaimed groups on the jazz scene. The current octet is a burnished international ensemble comprising tenor saxophonist David Sánchez, vibraphonist Warren Wolf, trumpetist Etienne Charles, guitarist Adam Rogers, vocalist Martin Luther McCoy, pianist Edward Simon, bassist Matt Brewer, and drummer Obed Calvaire.
Each year, the SFJAZZ Collective creates and performs eight new works and eight new arrangements of tunes by an honored artist. This year, the group will be celebrating the 50th Anniversary of both Sly & The Family Stone's "Stand!" and Miles Davis' "In A Silent Way." Through the pioneering approach of simultaneously honoring jazz's recent history while championing the music's up-to-the-minute directions, the Collective embodies SFJAZZ's commitment to jazz as a living, ever-relevant art form.
As soloists, composers, and bandleaders, the SFJAZZ Collective represents what's happening now in jazz. They also demonstrate that jazz has truly become an international language. Hailing from Oklahoma, Baltimore, Miami, Trinidad, Puerto Rico, Venezuela, and New York, the Collective's multi-cultural lineup mirrors the explosion of jazz talent around the globe. However, the jazz community only reached its current state by maintaining its traditions while simultaneously embracing innovation. This, too, is the essence of the SFJAZZ Collective. These exceptional artists come together in the name of jazz as a constantly evolving, quintessentially modern music.