Yellowjackets
September 24, 2021 @ 7:30 pm

-

September 25, 2021 @ 9:30 pm
Event Navigation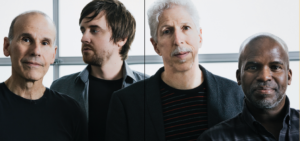 Friday, September 24, 2021,  7:30 p.m. +  Saturday, September 25, 2021,   7:30 p.m. 
The Yellowjackets have consistently forged ahead in their evolving artistic statements. The band has recorded close to 30 albums, been nominated for 17 GRAMMY® Awards, and has adventurously amplified the eclectic, electro-acoustic soundscape creating a unique jazz sound since its fusion beginnings.
While the Los Angeles-based Yellowjackets have been a creative force on the jazz scene since 1981 when they recorded their eponymous debut, their fourth Mack Avenue Records album, "Raising Our Voice," once again ups the ante with bold new strides.
"The band keeps moving forward," says saxophonist Bob Mintzer who joined the group in 1990. "It's one of the few partnership bands in the last four decades. It's democratic, laissez-faire and accommodating to everyone in the band to contribute. We're constantly reinventing ourselves as a reflection of what's happening in the world."
The Jackets are comprised of pianist/keyboardist/co-founder Russell Ferrante, bassist Dane Alderson in his second recording with the group and drummer Will Kennedy, who joined the band in 1987 and then in 2000 took a 10-year hiatus before returning to the drum chair.
Mintzer sees a bright future for the Yellowjackets. "What attracts me about the group is how stylistically broad we are," he says. "There are no barriers. We're free to try new things without making the music overly complex. I always say this is the band you always wanted to be in. We'll see where we go next."