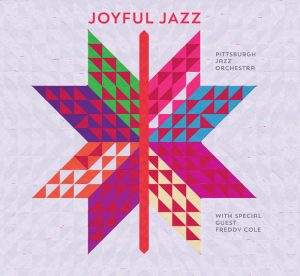 Pittsburgh Jazz Orchestra with special guest Freddy Cole

---
Tracklist
1. Jingle Bells (5:04)
Featuring: Sean Jones
Big Pila Music
2. Jingles, The Christmas Cat (3:49)
Ray Elbert Parker
Featuring: Freddy Cole
Soloist: Kenny Rittenhouse, Trumpet
Philray Publishing Company
3. Carol Of The Bells (6:07)
Peter Wilhousky, Mykola Leontovich
Soloists: Jay Ashby, Trombone
Marty Ashby, Guitar
Carl Fischer, LLC
4. Blue Christmas (7:19)
Jay W. Johnson, Billy Hayes (arranger Jeff Bush)
Soloists: Paul Thompson, Bass
Jeff Bush, Trombone
Demi Music Corp. DBA Lichelle Music Company; Universal – Polygram International Publishing, Inc.
5. A Cradle In Bethlehem (6:22)
Larry Stock, Alfred Bryan
Featuring: Freddy Cole
Soloist: Curtis Johnson, Alto Saxophone
Larry Spier Music LLC OBO Larry Stock Music; Sony / ATV Tunes LLC
6. Do You Hear What I Hear? (4:02)
Gloria Shayne, Noel Regney
Jewel Music Publishing Co., Inc.
7. It's The Most Wonderful Time Of The Year (4:59)
George Wyle, Eddie Pola
Soloists: Mike Tomaro, Soprano Saxophone
Paul Thompson, Bass
Barnaby Music Corp.
8. White Christmas (In The Sahara) (6:38)
Irving Berlin (arranger Jay Ashby)
Featuring: Freddy Cole
Soloist: Jay Ashby, Trombone
Irving Berlin Music Company
9. Merry Christmas, John Coltrane (4:07)
Mike Tomaro
Soloists: Sean Jones, Trumpet
Eric DeFade, Tenor Saxophone
Big Pila Music
10. Snowfall (5:25)
Claude Thornhill, Ruth Thornhill
Soloist: James Moore, Flugelhorn
Chappell & Co.
11. Sleigh Ride (4:59)
Leroy Anderson
Soloists: Alton Merrell, Piano
Mike Tomaro, Soprano Saxophone
EMI Mills Music, Inc. OBO Woodbury Music
12. The Christmas Song (3:59)
Mel Torme, Robert Wells
Featuring: Maureen Budway
Soloist: Mike Tomaro, Alto Saxophone
Sony / ATV Tunes LLC; Kobalt Music Publishing America, Inc. OBO Edwin H. Morris & Co.
13. Joy To The World (6:59)
Featuring: Sean Jones
Big Pila Music
All songs arranged by Mike Tomaro except where noted.
When the Pittsburgh Jazz Orchestra formed in 2010, the co-artistic directors, Sean Jones and Mike Tomaro decided a Holiday show would be a programming must. Now, the Pittsburgh Jazz Orchestra Holiday Celebration has become a tradition for families all over the Greater Pittsburgh region as a way to take a break from the busy prep of the Season. That tradition found its home at Manchester Craftsmen's Guild (MCG) Jazz. Jones says, "We want to try to recreate the spirit of what the Holiday is all about." On this recording the skilled musicians of the Pittsburgh Jazz Orchestra render a new treatment on Holiday classics, and turn the Holiday Season into a unique celebration of wonder, bliss, and merriment the whole family will enjoy. Mike Tomaro penned a brand new Holiday composition for the album in tribute to the great John Coltrane. Our very special guest vocalist Freddy Cole provides his impeccable sense of swing, expressiveness, and elegance to the record. We hope you and your family find the spirit of the season when listening to our collection of Joyful Jazz.

Pittsburgh Jazz Orchestra
conducted by co-artistic directors Sean Jones and Mike Tomaro
with special guest vocalist Freddy Cole:
Maureen Budway – Vocals (track 12)
Mike Tomaro – Flute, Clarinet, Soprano Saxophone, Alto Saxophone
Curtis Johnson – Flute, Alto Saxophone
Eric DeFade – Flute, Clarinet, Tenor Saxophone
Kenny Powell – Clarinet, Tenor Saxophone
Brad Wagner – Baritone Saxophone (tracks 1, 2, 3, 9, 11, 12)
James Germann – Bass Clarinet, Baritone Saxophone (tracks 4, 5, 6, 7, 8, 10, 13)
Steve Hawk – Lead Trumpet, Flugelhorn
Sean Jones – Trumpet, Flugelhorn
James Moore – Trumpet, Flugelhorn
Kenny Rittenhouse – Trumpet, Flugelhorn
Jeff Bush – Trombone
Keith Jackson – Trombone
Jay Ashby – Trombone, Percussion
Chris Carson – Bass Trombone (tracks 1, 2, 3, 9, 11, 12)
Glenn Wayland – Bass Trombone (tracks 4, 5, 6, 7, 8, 10, 13)
Marty Ashby – Classical and Electric Guitar
Alton Merrell – Piano, Keyboards
Paul Thompson – Acoustic and Electric Bass
Thomas Wendt – Drums
Lucas Ashby – Percussion (track 3)
Producer – Marty Ashby
Recording Engineer –Jay Dudt
Recording Assistant – Stan Kleja
Additional Recording – Jay Ashby
Mixing Engineers – Jay Dudt, Jay Ashby
Mastering Engineer – Jay Dudt
Associate Producer – Renée Govanucci
Photography – Wade Massie
Cover Art and Design – Jeff O.Brien Myers
Layout – Jim Manly at Red Caiman Media