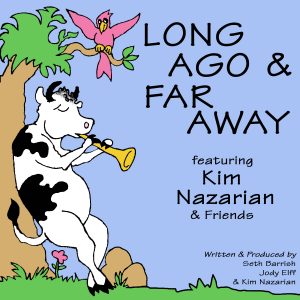 Kim Nazarian
Release Date: 08/28/2007
Buy Links
---
Long Ago & Far Away is an interactive children's concert by Kim Nazarian of New York Voices. The CD of this production features a lively mix of children's songs, jazz, sing-along, and a host of characters.
Tracklist
1. Our Journey Begins
2. Long Ago and Far Away
3. Looking Around
4. The Moo Town Sound
5. My Friend Pete
6. Fish Is "Deelish"
7. The Entrance Test
8. A Collection of Beasts
9. "Bien Venue"
10. Welcome To The Lizard Lounge
11. Meet the Band
12. The Kazoo Song
13. Everybody Can Sing
14. I Feel A Whole Lot Better When I Sing
15. The Princess
16. It's OK to Be Sad
17. The Party
18. Brush Your Teeth
19. The Farland Harbor
20. This Old House
21. The Shadow of an Island
22. Caribee
23. It's Time to Go
24. The Ship the Bonnie Lady
25. So Long, For Now. . .