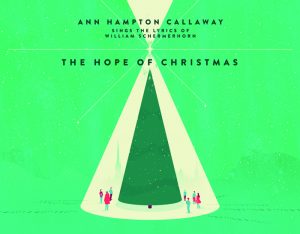 Ann Hampton Callaway
Release Date: 10/09/2015
---
"One of the miracles of songwriting is how anyone can possibly create a new effort when seemingly everything has already been expressed. Add to that notion the thought of writing a new Christmas song with something to say that feels familiar yet fresh… Enter William Schermerhorn with pen in hand and nimble mind at the ready. " Michael Feinstein, From THE HOPE OF CHRISTMAS liner notes
"Ann possesses what I think of as a quintessential Christmas voice. Sweet and pure… her sound transports you." Stephen Holden, The New York Times
THE HOPE OF CHRISTMAS is a new collection of Christmas songs interpreted by multiplatinum-selling singer, Tony nominated actress, pianist and leading champion of the American songbook, Ann Hampton Callaway, with lyrics by two-time Emmy® Award winner William Schermerhorn, and featuring twenty-nine of the world's best jazz musicians, including Five Play, New York Voices, Hubert Laws, Claudio Roditi, Gerald Albright, The Ted Rosenthal Trio and more. The recording will be released on the MCG Jazz record label (Marty Ashby, producer).
Composers for the twelve songs on the recording are Ann Hampton Callaway; Milton Delugg (Orange Colored Sky, Just Another Polka); Mary Ehlinger; two-time Emmy® and five-time Grammy® Award-nominated entertainer Michael Feinstein; Stephen Fox; Emmy® & Tony® Award-nominated composer Matthew Sklar (Elf, The Wedding Singer); and Emmy® Award-winning composer Wesley Whatley (Yes, Virginia, There's A Santa Claus).
Featured tracks to include the title song The Hope of Christmas with music by Ann Hampton Callaway and lyrics by William Schermerhorn. Performed by Ann Hampton Callaway and New York Voices.
All proceeds from the sale of this CD to go directly to support the MCG Jazz program and its mission to preserve, present and promote jazz. MCG Jazz, mcgjazz.org, is a social enterprise of Manchester Craftsmen's Guild, a subsidiary of Manchester Bidwell Corporation, a non-profit arts and learning center.
BACKGROUND INFORMATION
The eighteen-month collaboration between singer, lyricist and record producer to bring THE HOPE OF CHRISTMAS to the public has kept the holiday season and its inspiring message at the forefront for the many artists involved. Starting with a list of approximately thirty songs, the Ashby-Callaway-Schermerhorn team ultimately came up with the dozen songs (including two brand-new compositions by Callaway/Schermerhorn) that make up the playlist.
With the exception of the Emmy® nominated song I BELIEVE, which was first performed by Kermit the Frog and released as a single with Kermit the Frog and Disney star Tiffany Thornton, the songs on THE HOPE OF CHRISTMAS recording will be available to the public for the first time in these dynamic, all-new jazz arrangements by Jay Ashby, Marty Ashby, Callaway and Mike Tomaro.
"Christmas music, in all its styles, touches the heart like no other music I know," says William Schermerhorn. "For over two decades, I have been blessed to have the opportunity to tell new Christmas stories for a wide variety of events through the lyrics of my songs. It's a gift to now hear these songs interpreted by Ann Hampton Callaway and the extraordinary jazz musicians that Marty Ashby has assembled for this recording. Knowing that proceeds from the sale of this recording benefit MCG Jazz to carry out its mission is like having extra tinsel to make the holiday season shine even brighter."
"MCG Jazz is honored to be a part of this important project," says Marty Ashby. "Bill Schermerhorn's lyrics are such a powerful representation of the spirit of the holiday season and there is no one more elegant than Ann Hampton Callaway to deliver the message in a most profound way."
Reflecting on this collaboration, Ann Hampton Callaway comments that "Singing and composing music for this collection of Bill Schermerhorn's new holiday songs has been a joy and an honor. Since music has the power to open hearts and unite us, may the spirit of this record inspire each listening heart to bring more love to each day, so that the season of love can last all year round!"
Tracklist
All lyrics by William Schermerhorn
1. ON UNION STREET (Wesley Whatley, music)
2. THE HOPE OF CHRISTMAS (Ann Hampton Callaway, music)
3. ONE STAR (Stephen Fox, music)
4. DISCOVERY (Wesley Whatley. music)
5. I BELIEVE (Wesley Whatley, music)
6. I SAW A SPARROW (Matthew Sklar, music)
7. SANTA DOESN'T LIKE ME (Matthew Sklar, music)
8. CHRISTMAS ISN'T CHRISTMAS AT ALL (Milton Delugg, music)
9. I WANT TO PLAY SANTA (Wesley Whatley, music)
10. WHAT GOOD IS BEING CRANKY (WHEN IT'S CHRISTMAS TIME) (Mary Ehlinger, music)
11. MY GIFT OF THANKS (Michael Feinstein, music)
12. FLY WITH THE ANGELS (Ann Hampton Callaway, music)
ARTISTS
ANN HAMPTON CALLAWAY (vocals, composer) Multi-platinum selling & Tony nominated singer/songwriter Ann Hampton Callaway has written over 250 songs, including the theme to the hit TV series The Nanny and multi-Platinum hits for seven of Barbra Streisand's recent CDs. The dynamic vocalist keeps a heavy touring schedule performing at PACs, theatres and jazz festivals all over the world. The past two years, Ann has taken the symphony world by storm with her award-winning tribute to her legendary mentor with "The Streisand Songbook," which she premiered with The Boston Pops and continues to tour nationwide, along with her more recent, riveting tribute to the great American vocalist Sarah Vaughn ("From Sassy to Divine: The Sarah Vaughan Project"). Callaway's starring role in the jazz Broadway musical Swing! earned her a Tony nomination and The Theater World Award. Ann was also one of the show's co-creators. Her music and lyrics have been performed and recorded by Barbra Streisand, Carole King, Liza Minnelli, Patti Lupone, Michael Feinstein, Blossom Dearie, Peter Nero, Karrin Allyson, Donna McKechnie, Harvey Fierstein, Lillias White, Barbara Carroll, Amanda McBroom and Liz Callaway.
The Cole Porter Estate officially recognizes Ann Hampton Callaway as the only composer to have collaborated with Cole Porter, having set her music to his posthumously discovered lyric, ""I Gaze In Your Eyes." Callaway's performances have been seen on numerous TV shows including The Today Show, CNN's Larry King Live, The Charlie Rose Show, The Oprah Winfrey Show, The Rosie O'Donnell Show, and ABC News. She starred in "Midnight Swing" for the PBS television special "Live From Lincoln Center" and was featured in another PBS special with Keith Lockhart and the Boston Pops. She has also been a featured performer on the NBC Special "Macy's Fourth of July Fireworks Spectacular" and NBC's "Macy's Thanksgiving Day Parade." Her voice has been heard in numerous TV jingles and voiceovers including spots for Coca Cola, Ethan Allen and State Farm. Ann has also done extensive broadcasting for Sirius Satellite Radio as a performer, DJ and interviewer. She is in discussion about hosting a TV talk/variety show for singers and singer-songwriters. She has garnered an unsurpassed fourteen awards from The Manhattan Association of Cabarets and Clubs, two Backstage Bistro Awards, The 2005 Nightlife Award, The Johnny Mercer Songwriter Award and The Norman Vincent Peale Award For Positive Thinking.
Ann devotes much of her time to philanthropic causes, both as a singer performing in numerous benefits, and as a songwriter composing songs in times of need. Ann resides in New York and lives by the creed best expressed in the Andre Gide quote: "Art is the collaboration between God and the artist and the less the artist does, the better."
WILLIAM SCHERMERHORN (lyricist) is a two-time Emmy® Award-winning songwriter. As VP/Creative Director for Macy's Parade & Entertainment Group, he has developed original material for performers as diverse as Idina Menzel, Kermit The Frog, Audra McDonald, The Charlie Daniels Band, Whoopi Goldberg, Walter Cronkite and The Texas State University Strutters. He won a Daytime Emmy® Award for the song "Yes Virginia (There's A Santa Claus)" with composer Wesley Whatley and a second consecutive Daytime Emmy® Award for "(Won't You) Join Our Parade" with composer Doug Katsaros. He received "Outstanding Original Song" Daytime Emmy® nominations for the Christmas song "I Believe" (Wesley Whatley, music) and "Jolly Dream Pirates" (Michael Feinstein, music).
Past project highlights: a musical adaptation of Miracle on 34th Street (Wesley Whatley, music); American River Suite, a five-piece musical tone poem (Stephen Flaherty, music); Free to Dream: The Songs of Katsaros & Schermerhorn; My Gift of Thanks, a benefit event for The Actors Fund; "And That's The Way It Is" (Michael Feinstein, music). Current projects: Swing Wings, a WWII musical (Milton Delugg & Mary Ehlinger, music), Macy's Yes, Virginia: The Musical (Wesley Whatley, music).
Bill is a member of The Dramatists Guild, Inc. and a graduate of The College of William & Mary. He was born on the 4th of July.
MARTY ASHBY (producer, guitarist) is a jazz guitarist, GRAMMY® Award-winning producer, programming consultant, motivational speaker and lifelong advocate of jazz music and its unique place in American culture. He founded MCG Jazz, in Pittsburgh, PA in 1987 and manages its presenting, education and recording programs to this day. For nearly three decades, Ashby has been an artistic advisor and producer for jazz concerts and festivals around the country. Ashby has produced five GRAMMY® Award-winning albums with Nancy Wilson, the Count Basie Orchestra and Paquito D'Rivera. A professional musician since age eight, he continues to play and record and has performed with Slide Hampton, Claudio Roditi, Nancy Wilson, Paquito D'Rivera, Herbie Mann, Phil Woods, The Dizzy Gillespie All-Star Big Band and others.